RoSPA Approved, CPD Certified Food Hygiene Awareness Online Training Course
This level 1 online food hygiene awareness training is RoSPA approved and CPD certified and is a required course programme for all employees, self-employed persons, or anyone not working directly in the preparation, manufacture of food. Our food hygiene training programme is CPD certified and covers all the required subjects to ensure that you have the understanding to take all the correct precautions when selling or distributing food.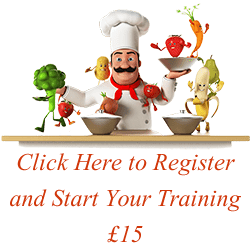 This online food hygiene awareness course is conducted using a video based training system, with instructor led presentations, each video can be rewound, or paused to gain a better understanding of the course structure.
Once you have started training you can leave the programme and return another day, as teh course resumes from where you left.
Click on any of the subjects on the right to see the course content associated with our level 1 food hygiene awareness online training programme.
Course Content Click Below
Current Legislation
Relevant legislation
Allergen Regulations 2014
Food Preservation
Principles of food preservation
Food spoilage
Factors that promote enzymes and microbial activity
Chilling
Freezing
Contamination & Poisoning
Food poisoning
High risk foods
People at high risk
Factors affecting food poisoning
Symptoms of food poisoning
Pest contamination
Preventing food spoilage
Personal & Food Hygiene
Personal protective equipment
Food hygiene
Cleaning
Chopping boards
Personal Hygiene
Cooking meats
Cross contamination
Physical contamination
Chemical contamination
Temperature scale
Bacterial growth
Our training course is available with cpd time credits and you will also be able to print your level 1 food hygiene awareness certification on completion. You can register and start training by clicking the "Start your Training" picture above.
This online food hygiene training awareness course is suitable for mobile sandwich vans, shops who sell sandwich's and food stuffs and some fast food outlets and more, but this course is also suitable for any individual who would like to obtain a valid and up to date food hygiene awareness certificate.
Additional Online Training Available
We also offer a RoSPA approved & CPD certified level 2 online food hygiene training and diet & nutrition training courses. For a more detailed description of the course click the text below, or click the image to register and start.
For additional information regarding our food hygiene online training programmes please contact us through our contact us page.